We help SEO consultants get more leads, win higher-value clients and retain them long term using proven processes, results focused training and expert mentorship.
SEO Accelerator is an educational resource, consisting of a private community, online training, live masterclasses, expert mentorship and group coaching.
SEO Accelerator is designed specifically for SEO consultants wanting to improve their processes, deliver a better quality service to their clients and scale to $1M a year or more.
SEO Accelerator takes place primarily online, within the private community that hosts weekly Q&A's, live masterclasses, and resources library. All private coaching calls are held via Zoom.
It works by watching the videos, and applying the strategies shown, as well as attending live classes, engaging inside the community and receiving private group coaching.
SEO Accelerator starts the moment you enroll, granting you full access to all training materials. As a member you receive unrestricted access to the entire program plus any future updates.
Having technical SEO knowledge is great, but that's only a small percentage of what it takes to run a successful agency. SEO Accelerator fills that void in extreme detail.
SEO Accelerator is the most comprehensive agency training available. It provides everything you need to succeed. Hundreds of incredibly detailed step by step instructional videos, dozens of document templates, checklists, sales scripts, online community, group calls, live masterclasses, private group coaching and more.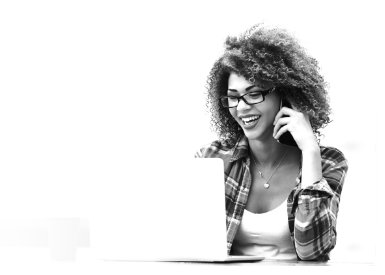 Actionable Training
Access hundreds of instructional videos that walk you through everything, including sales, technical SEO and campaign management.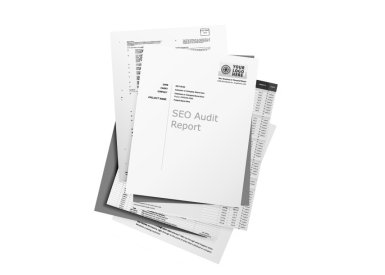 Document Templates
Dozens of ready made SEO document templates, contracts, checklists, spreadsheets, sales scripts, slide decks and more.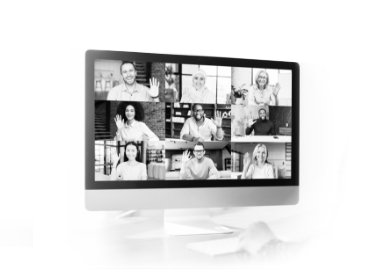 Private Community
Ask questions, create friendships, get help and build your network inside our private community full of other SEO professionals.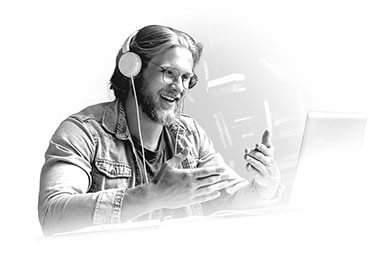 Private Coaching
Private group coaching each week to check your progress and keep you on track and focused on your end goal.
What's covered in the program?
Welcome and congratulations
00:46
A short message welcoming you to the program
Introduction and overview
02:15
Quick run through of important keynotes before getting started
About me
12:21
A complete timeline and history of my 20 years experience working in the SEO industry
Course structure
11:29
A comprehensive overview of how the course is structured including topics covered, provided resources and the organization and sequencing of course content
How to get the most out of this training
09:36
Proactive steps you can take to prepare, plan and participate in order to get the most value out of this program
Rules within the community
08:30
Community standards outlining general rules and guidelines to ensure your experience is enjoyable and safe
Questions & support
01:35
Guidance in terms of asking questions within the community and raising support requests
Celebrating your wins
01:01
A quick reminder around the importance of acknowledging and celebrating your wins with others
Q&A calls
00:54
Information around Q&A sessions including scheduling, frequency, hosting details and how to get involved
Partnerships, JV's and affiliate registrations
01:23
Application guidelines for those wanting to promote the SEO Accelerator program as a registered partner or affiliate
Suggestions
00:30
Continual growth and improvement is only possible with the feedback and input from our students
Reporting technical issues
01:12
Advice for members experiencing technical difficulties whilst accessing the site
Reporting piracy
00:38
Instructions for members who believe they may have information regarding the illegal copying, selling or distribution of the SEO Accelerator program
Submitting a video testimonial
01:32
Quick guidance for members wanting to share their experience with others by uploading a video testimonial
Campaign Posters
–:–
Downloadable poster sized PDF's perfect as visual aides or points of quick reference
Courseware – Documents, checklists, spreadsheets & more
–:–
Full repository of all courseware including checklists, spreadsheets, templates, sales scripts and more
Recommended Learning – Books, courses etc
–:–
Recommended material to help fast track your success, including books, online resources and other training programs
Software – Recommended software & tools
–:–
A comprehensive list of recommended tools, software and applications
Hardware – Recommended equipment
–:–
Recommended hardware to assist with daily operations
SECTION 2 - Business Disciplines
Lesson 1 – No assumptions
01:11
A quick disclaimer around mindset, work ethic and personal motivation levels
Lesson 2 – Mindset
08:46
Understanding why it's essential to change your thoughts, your beliefs, your language, your behaviours and the way you think in order to grow and ultimately succeed
Lesson 3 – The importance of confidence
06:04
Development strategies based upon the competence confidence principle that you can apply to build confidence, strengthen self belief and empower yourself
Lesson 4 – False belief systems
06:23
Learn how to become self aware of false belief systems that might be subconciously obstructing your advancement
Lesson 5 – Thinking big
08:48
How to embrace unrealistic goals and achieve massive success by abandoning traditional thinking that's limiting your potential
Lesson 6 – Overcoming fear
04:39
Learn how to overcome your fears by addressing it, understanding it, and ultimately leveraging it to your advantage
Lesson 7 – Being comfortable being uncomfortable
04:37
How to push beyond stagnation by taking massive action and setting goals that push you beyond your comfort zone
Lesson 8 – You win and you learn
03:07
Learning to embrace failures and understanding that mistakes have value and that there are no losses, only lessons
Lesson 9 – Letting go of bad habits
07:11
Learn how to identify behavioural patterns that hinder growth and what strategies you can implement to enforce change
Lesson 10 – Embracing mistakes
02:57
Developing a growth mindset is about embracing mistakes and while it may seem counter-intuitive, it's the foundation of every worthwhile goal
Lesson 11 – Avoiding burnout
07:56
Important lessons you must learn in order to avoid what is the most common cause of failure for SEO consultants – burnout
Lesson 12 – Overcoming imposter syndrome
06:42
Steps you can take to overcome imposter syndrome by making the decision to be confident and succeeding deliberately
Lesson 13 – Audit your circle
03:41
Understand and acknowledge that the success you achieve is ultimately determined by the people you associate with
Lesson 14 – Improving your environment
02:05
How to raise awareness about your surroundings and make changes at the macro level in order to operate with absolute clarity
Lesson 15 – Build your network
03:51
Strategies you can apply in order to create relationships, build your network and associate with highly influencial people that will push you to be the best version of yourself
Lesson 1 – Chasing 2 rabbits
04:35
Learn the disciplines required in order to avoid impulsive decision making and instead focusing all of your energy on doing one thing and doing it incredibly well
Lesson 2 – Bright shiny objects
05:40
Bright shiny objects tend to affect entrepreneurs specifically because of the qualities that make them unique. Learn how to identify acknowledge and break this behavioural cycle
Lesson 3 – Discipline matters
08:32
Learn how to cultivate extreme self discipline that allows you to overcome obstacles and discomfort as you push yourself to new heights
Lesson 4 – Business vs busyness
08:21
Understand the differences between being busy and being productive
Lesson 5 – Learning to say no
08:42
Making the mistake of continually saying yes can leave you overcommitted, overwhelmed and exhausted. Learn the most important lesson in business – saying no
Lesson 6 – Capture the flag
04:55
How to avoid getting caught up in the things that don't matter, and instead staying focused on the primary objective
Lesson 7 – The beauty of clarity
05:07
Achieving clarity often means doing less and being able to cleary distinguish exactly what you do without confusion or ambiguity
Lesson 8 – Whats your why?
03:31
Steps to help you define your purpose, understanding what drives you and knowing what it takes to be great
Lesson 1 – Why an SEO agency?
05:37
Acknowledging the importance of taking a moment to answer an obvious question, why even start an SEO agency?
Lesson 2 – Business owner vs technical expert
04:45
Recognising there's a tremendous difference between being a technical expert and running a successful SEO agency
Lesson 3 – Working ON the business, not IN it
03:46
Practical steps you can take to avoid getting caught up in fulfillment and instead, position yourself in a way that allows you to work on the business, rather than in it
Lesson 4 – From hobby to business
01:40
Considerations to be mindful of when transitioning from a hobby to servicing paying clients
Lesson 5 – Agency vs freelancer
08:02
Determining what's the best fit for you, freelancing or running a large scale agency
Lesson 6 – Branding
03:51
Important considerations you must take into account before establishing yourself within a particular marketplace
Lesson 7 – Starting at the end
00:51
A quick note around reverse goal setting which can be useful in terms of backwards planning in order to achieve long term objectives
Lesson 8 – Finding balance
04:31
Why finding a balance will be the most difficult challenges for you in business and the steps you can take to ensure you achieve your goals without sacrificing your health and well being
Lesson 9 – Less is more
04:27
In order to increase efficiency and reduce complexity it's absolutely essential to reduce your service offerings
Lesson 10 – Getting rid of everything
08:06
Why you must get rid of toxic services within your business and start doing less and making more
Lesson 11 – Referring the noise
01:54
Learn how to build reciprocal partnerships that allow you to protect yourself from potential distractions and noise
Lesson 12 – Productizing your service offering
08:21
Having a properly productized service allows you to focus on scaling rather than just surviving
Lesson 13 – The speedee service system
04:40
Discover how the original founders of McDonalds reimagined the fast food industry and essentially producitized the entire operation, called the "speedee service system"
Lesson 14 – Riding two bicycles
04:03
Why navigating your way through a transitional period can feel like trying to ride two bicycles, and what you can do to make it more seamless and less stressful
Lesson 15 – Quitting your job
11:04
Practical steps and advice you can take in order to quit your job and go full time within your agency
Lesson 16 – Restructuring your business
08:39
What you need to take into account when restructuring your business and making significant changes
Lesson 1 – Processes processes processes
13:29
In order to scale and automate, you must productize. In order to productize you must have incredibly efficient processes in place
Lesson 2 – The power of predictability
03:01
Steps you must take to move to a predictable model that allows accurate forecasting and outcomes
Lesson 3 – The coffee factory
40:17
A practical demonstration that perfectly shows the importance of processes within a business, and how essential they are in order to produce an efficient workflow
Lesson 4 – Feedback loops
02:48
How feedback loops allow you to make continual and incremental improvements over time based upon the outcomes of certain actions
Lesson 5 – Simplification
02:54
How to take complex operational procedures and reduce them down to the absolute basics in order to simplify and expedite
Lesson 6 – Process skipping
02:01
Why it's absolutely imperative to protect your processes in order to avoid breakdowns in workflow, procedures and of course intended outcomes
Lesson 1 – Generalist vs specialist
01:39
Overview and explanation of the differences between generalists and specialists
Lesson 2 – Pros and cons
11:59
Understanding the benefits and drawbacks to operating either a specialist or generalist as an SEO consultant
Lesson 3 – Learning curves cost time and money
05:47
Why niching down and operating as a specialist is absolutely essential in order to scale and automate
Lesson 4 – Niche selection criteria
07:34
The five main criteria that must be met in order to choose a profitable niche
Lesson 5 – Choosing a niche
04:56
How to choose a niche based upon several essential factors that will ensure long term success
Lesson 6 – Specialist niching
03:51
How to operate as a specialist within a niche without being limited to a particular industry
Lesson 7 – Niche hopping
01:14
Strategies you can implement to prevent constantly changing niches and losing momentum
Lesson 8 – Fail or succeed, do it quickly
01:55
Why it's absolutely essential to shortlist, test, eliminate and confirm provisional niches quickly
Lesson 9 – Exclusivity
08:15
Considerations to be mindful of when dealing with exclusivity requests when specialising in a particular niche
Lesson 10 – Going narrow but wide
02:15
How to overcome potential limitations in market share size by going narrow, but wide
Lesson 1 – Revenue focused SEO
05:18
Why you need to completely rethink everything you know about SEO and shift your focus from rankings to revenue
Lesson 2 – Qualify educate win
06:30
How to educate clients about the importance of focusing on the metrics that matter – sales, leads and conversions
Lesson 3 – Demonstrating ROI
07:57
How to define lead value, the importance of accurate tracking, setting up goals and demonstrating a positive return on investment for your clients
Lesson 4 – The importance of tracking and measuring
02:08
Revenue focused SEO relies entirely on the fact that everything is tracked and measured accurately
Lesson 5 – Client prerequisites
04:58
How to ensure the best possible outcomes for your campaigns by confirming the following criteria
Lesson 6 – The inherent problem of web design
04:26
A look at some of the inherent problems related to web design and what you can do to avoid them
Lesson 7 – Productize templatize standardize
04:17
Why it's absolutely essential to eliminate any form of custom web design from your service offering
Lesson 8 – Leveraging prebuilt templates
06:42
How to avoid getting bogged down fixing technical issues, or dealing with painful never ending web projects by productizing and leveraging prebuilt templates
Lesson 9 – Knowing when to stop
01:52
Knowing where web design stops and SEO starts is an essential part of the site build and preparation process
Lesson 10 – Requests for everything
04:04
How to handle requests for everything that result in complicated web projects requiring specialised requirements or customisation
Lesson 11 – Before jumping in
05:43
Considerations that must be addressed before you begin building a library of niche specific web templates
Lesson 12 – Co-ordinate don't code
00:43
A quick reminder that as a business owner it's your responsibility to remain focused on task delegation, not burying your head in code
Lesson 1 – Quick disclaimer
01:08
A quick disclaimer around providing information and advice around financial topics
Lesson 2 – The economics of SEO
03:09
A quick look at the economocis of SEO, growth within the industry and the sheer demand for search engine optimization services
Lesson 3 – Earning potential
07:15
SEO can be very lucrative but much of that success depends upon several factors that directly influence your earning potential
Lesson 4 – Fewer, higher paying clients
03:21
Why you should always aim to have fewer, higher paying clients
Lesson 5 – Reverse engineering $1M a year
04:04
Calculating the maths behind what it actually takes to make $1M per year doing SEO
Lesson 6 – The abundance of money
05:01
Acknowledging that money is absolutely everywhere and why having a scarcity mindset is limiting your potential
Lesson 7 – The good the bad and the money
05:44
Why there seems to be so much confusion in the SEO space around pricing and how to make sense of it
Lesson 8 – Common mistakes around pricing
03:54
How to avoid pricing mistakes and what you can do to avoid jumping from one client to the next, constantly trying to make ends meet
Lesson 9 – How to charge for SEO
04:57
Learn how to charge effectively by setting a rate that clearly defines time and allocation of labour in a way that clients understand
Lesson 10 – Calculating profit margins
01:01
How to easily calculate profit margins using the new method of charging for SEO
Lesson 11 – Understanding the hourly rate
09:02
Learn how to implement, apply and breakdown the new pricing model with these practical examples
Lesson 12 – Pricing transparency
02:11
Why it's important to be upfront and transparent with pricing and how this is actually beneficial in terms of filtering out less than ideal prospects
Lesson 13 – Negotiating your rates
08:46
Several reasons why you should never enter into negotiations with clients over your rates
Lesson 14 – Discounts and incentives
04:02
How you can offer discounts and other pricing incentives for existing clients in a way that works for everyone
Lesson 15 – Raising your rates
05:26
Knowing when it's time to raise your rates and why it should be done for the benefit of your clients, not you
Lesson 16 – Favors and freebies
00:43
How to politely say no to clients who continually request favours and freebies
Lesson 17 – Charging for web templates
03:50
Different pricing strategies you can apply to web related work including niche specific templates
Lesson 18 – Getting paid first
01:52
Why getting paid in advance is absolutely crucial
Lesson 19 – Partial payments
02:10
Why offering clients partial payments can often lead to reduced profits, wasted time and uncomfortable conversations
Lesson 20 – Automating payments
02:25
Setting up automated payment processing is essential in terms of improving cashflow and reducing unecessary adminstrative tasks and overheads
Lesson 21 – Payment guidelines
05:30
How to deal with clients wanting to disregard or request changes your payment terms and conditions
Sales are everything
03:15
A great team, wonderful service offerings and a fancy pitch won't mean anything if you're not selling
Chaos and confusion
03:54
Failing to have a structured sales process in place results to wasted time, frustration and lost sales
Why proposals suck
06:03
Learn why proposals are an absolute waste of time and why you should stop doing them immediately
2 stage sales process
06:29
How to convert prospects into paying customers and sell with absolute confidence using the two stage sales process
Prequalifying leads
12:57
Learn how to prequalify effectively to ensure you're only onboarding clients who meet a certain criteria
The sales presentation
05:34
The sales presentation is an opportunity to not only present and pitch your service offering, but do it in a way that educates, provides clarity, sets expectations, demonstrates results and makes the prospect feel confident about doing business with you
Maximising sales
07:18
Practical steps you can take to maximise the effectiveness of your sales presentations and close more deals
Handling objections
10:54
Understanding that if you're selling and you're not prepared for objections, then you're only half prepared
Dealing with rejection
03:37
Why rejection is a natural part of selling and what you can do to turn objections into opportunities
Lesson 1 – Niching down is not enough
02:38
Why niching down is not enough and steps you must take in order to clarify exactly who you're targeting
Lesson 2 – Defining your ideal client
07:15
Clearly defining what an ideal client looks like will help align your marketing, your offer and your message
Lesson 3 – Attributes of an ideal client
06:11
Several key attributes that can help you identify and understand what makes an ideal client
Lesson 4 – The greatest challenge
07:15
Top 10 reasons why most SEO consultants struggle to get leads and what you can do to avoid the same frustrations
Lesson 5 – The AIDA model
10:29
Understanding the AIDA model is absolutely crucial in terms of conceptualizing the client acquisition process
Lesson 6 – The money's in the list
04:31
Learn how to secure clients with targeted lists and strategic multi channel outreach campaigns
Lesson 7 – Multi channel outreach
11:16
How to implement a strategic multi channel direct outreach campaign in order to validate the niche and establish positioning
Lesson 8 – Value assets
01:36
How to create value assets that position you as the expert, build trust and convert strangers into customers
Lesson 9 – Ramping up with content
10:22
How to implement a niche specific content marketing strategy that attracts high value clients on autopilot
Lesson 10 – Minimum viable effort
04:35
Learn why its so incredibly important to keep time, costs and effort to an absolute mininum during the early stages
Lesson 11 – Crawl walk run
03:40
Why it's essential to crawl first, then walk, then run when it comes to validating a niche, and becoming established
Lesson 1 – Video audits
11:27
Learn how to prospect, qualify and close SEO clients using video audits
Lesson 2 – Networking events
04:59
Learn how to maximise your networking potential by attending highly targeted conventions, expos, seminars, conferences, and speaking events where the entire audience is your targeted niche
Lesson 3 – Forums and groups
03:35
How to attract high paying clients by interacting within targeted forums and groups
Lesson 4 – Inner circle
02:32
Working your inner circle is probably one of the most powerful ways of getting clients fast, especially if you're just starting out
Lesson 5 – Strategic partnerships
02:48
How to form strategic partnerhips that give you immediate access to a large pool of highly targeted prospects
Lesson 6 – Agency partnerships
03:26
Why partnering with agencies that offer complimentary services can be a highly effective way of driving high quality leads
Lesson 7 – Client referrals
03:16
Incentives you can offer existing clients to help drive referrals and more leads
Lesson 8 – Strategic positioning
03:34
Strategic positioning is about getting in front of your target audience and demonstrating expertise
Lesson 1 – Client communication
07:16
The way in which you and your team communicate with clients will ultimately determine the overall success of your business
Lesson 2 – Client retention
07:27
Learn the most common causes behind high attrition rates and what you can do to improve brand loyalty and client retention
Lesson 3 – Accessibility
04:16
How to provide exceptional client support and assistance whilst maintaining professional boundaries
Lesson 4 – Keeping it professional
02:03
How to find a balance between being warm and personable, but maintaining a professional relationship with clients
Lesson 5 – Honesty really is the best policy
02:41
How to build stronger relationships with your clients by being upfront, honest and completely transparent
Lesson 6 – Clients to avoid
11:23
How to quickly recognize, identify and avoid problematic clients
Lesson 7 – Keeping clients updated
01:06
Providing regular updates can boost customer satisfaction, strengthen relations and improve client retention
Lesson 8 – Educating clients
02:51
Educating clients can be beneficial in terms of communicating concepts, strategies and other factors that influence project direction
Lesson 9 – Dealing with difficult clients
06:21
Preventative measures you can enforce to deal with clients who want to constantly obstruct and interfere
Lesson 10 – Firing clients
06:16
Making the decision to let a client go can be difficult, but in some cases it's absolutely necessary
Lesson 11 – Campaigns are a joint effort
00:54
Helping clients understand they have responsibilities and that an SEO campaign done right is a joint effort
Lesson 12 – Client management systems
05:54
Why its absolutely crucial to communicate, interact and engage with your clients in one centralised location
Lesson 1 – SEO & Lego
01:28
What we can learn from Lego and how that translates into the way in which we should approach SEO campaigns
Lesson 2 – Preparing for scale
02:28
Anticipating and preparing for massive growth forces you to think bigger, with scale in mind so that you can avoid issues later on
Lesson 3 – Focus and control
01:57
To avoid losing control of campaigns you must learn to communicate clearly, enforce your contracts and be prepared to say no
Lesson 4 – Staggering campaigns
03:30
Learn the importance of campaign staggering and how it allows you to offset your projects in a way that reduces workload at the beginning and end of each month
Lesson 5 – Understanding billing cycles
03:08
Understanding billing cycles – from payment to completion of tasks, reporting and hosting end of month strategy sessions
Lesson 6 – Orderly co-ordination
02:38
Steps you can take to prioritize, plan and co-ordinate your efforts in a way that ensures absolute efficiency
Lesson 7 – Important reminder
00:53
A quick reminder about the importance of productizing your service offering
Lesson 1 – The greatest frustration
03:26
How to break the cycle and greatest frustration that almost all SEO consultants face – getting caught up in fulfillment
Lesson 2 – Time in the trenches
02:38
Understanding the value of spending time in the trenches
Lesson 3 – Common team building mistakes
04:15
How to prevent many team building mistakes that ultimately lead to breakdowns in communication, inefficient operations and poor outcomes
Lesson 4 – Understanding your role
05:18
Making the realisation that you're not what you think you are
Lesson 5 – Basic team structure
05:37
Before hiring, it's important to understand basic team structure, responsibility of team members, the skills required and how they all work together
Lesson 6 – Hiring vs outsourcing
03:13
Why building your own team allows you to retain control over your own operations unlike outsourcing which can often lead to miscommunication and poor outcomes
Lesson 7 – Before you hire
04:19
Intergrating new members into the team requires a certain level of preparedness and planning before beginning the hiring process
Lesson 8 – The hiring process
08:11
Much like prequalifying clients to ensure a good fit, the same principles apply when hiring team members. Learn the five stage hiring process to ensure you only hire the best
Lesson 9 – Finding good help
06:48
Understand that there's good help available everywhere and it's more about how you hire, not where you hire
Lesson 10 – Redundancy
00:48
Having a level of redundancy in place in terms of staffing is absolutely crucial in terms of continuity and resilience
Lesson 11 – Pay rates
04:27
Everything you need to know about what to pay staff, including pay rates, wage structures and whether or not to pay hourly or fixed rate
Lesson 12 – Firing staff
03:10
Strategies you can implement to identify and resolve issues quickly, and if necessary steps required when letting a team member go
Lesson 13 – Getting the most out of your team
03:24
Whether you're managing a remote team or interacting with people in an office, it's essential that you inspire, support and lead in a way that brings out the best in your team
SECTION 3 - Campaign Training
Learn the way that best suits you
We've made it easy for you to achieve results. Learn everything you need to know anywhere, any time at a pace you're most comfortable with.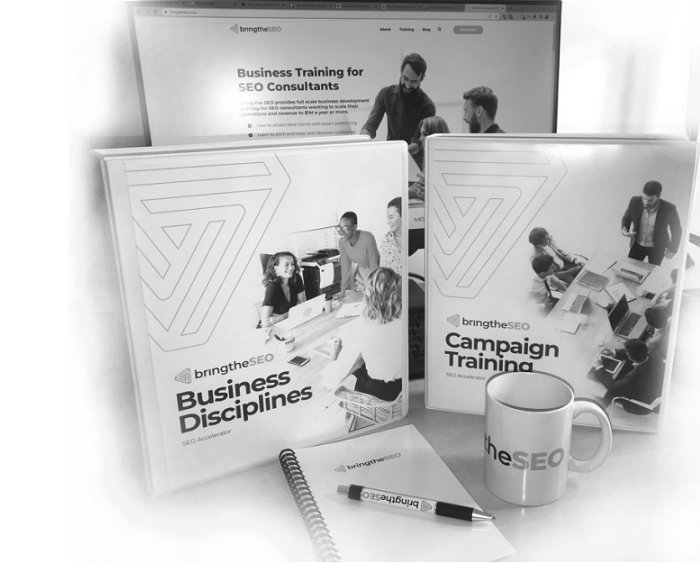 Receive the boxset of physical training materials, including two binders, notepad, coffee cup and pen. Learn online through the e-learning platform, through classic printed workbooks, or both.
Highly actionable training
Access more than 300 highly actionable instructional videos that show you how to –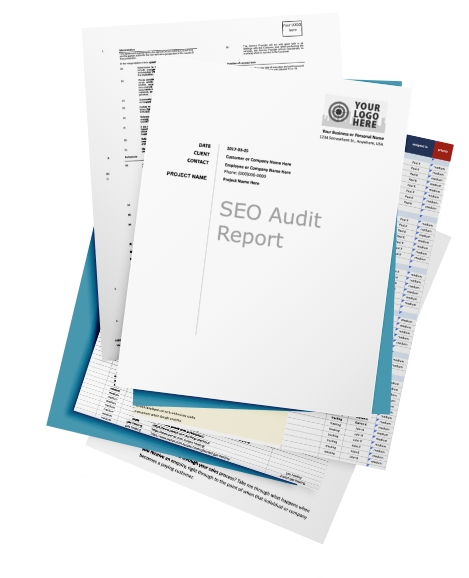 50+ spreadsheets and document templates ready for immediate use – just fill in the blanks and add your agency logo and branding.
Templates include – sales presentation slide deck, seo audit checklist, client questionnaire,  seo campaign checklist, phone sales script, seo contract template, seo audit report slide deck, content planner, offpage planner, site restructure planner, invoice template and more
Don't go it alone. Interact with other SEO consultants inside our private community – create friendships, ask questions, get help or share your expertise.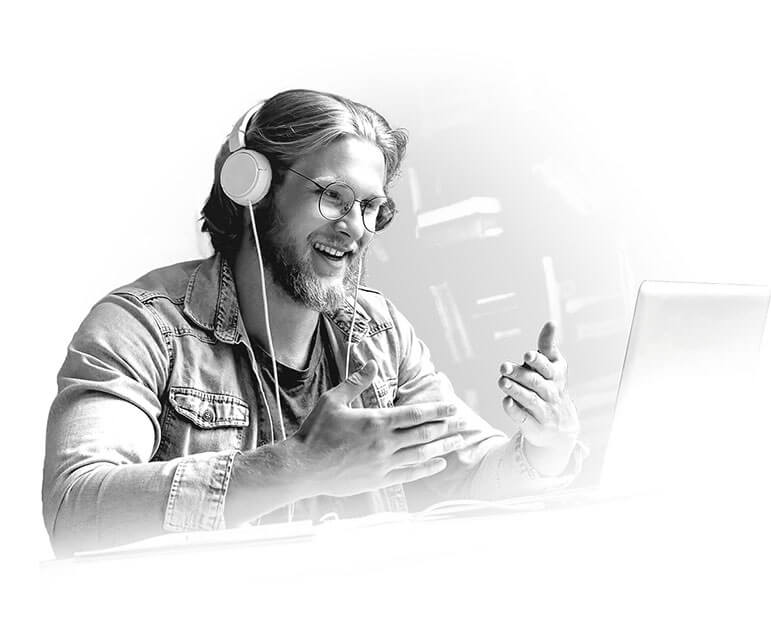 Enhance the learning experience and accelerate your progress with weekly group private coaching calls to help keep you on track and focused on your end goal.
Massive Results Come from
Taking Massive Action
Learn how to measure, analyze, improve and control all aspects of your agency functions. Increase across-the-board sustainable quality improvement processes and achieve stable and predictable results forever.